¿No te cansas de los documentales sobre crímenes y escándalos reales? tienes suerte Netflix agregará más de 100 títulos en abril, incluidos algunos nuevos.
"Senzo: Murder of a Soccer Star" (7 de abril) es una serie de cinco partes sobre el asesinato del futbolista sudafricano Senzo Meyiwa, y "The Mystery of Marilyn Monroe: The Unheard Tapes" (27 de abril) vuelve a examinar el La muerte del icono de Hollywood. "White Hot: The Rise & Fall of Abercrombie & Fitch" (19 de abril) aborda el dominio cultural de la marca de ropa y las controversias que han empañado su imagen.
Por el lado de los reality shows, "Selling Sunset" regresa para la temporada 5 el 22 de abril, y la segunda temporada de "Get Organized with The Home Edit" se estrenará el 1 de abril. Los presentadores de "Love Is Blind" Nick y Vanessa Lachey prestarán su talento a un nuevo programa de citas, "The Ultimatum: Marry or Move On" (a la venta el 6 de abril).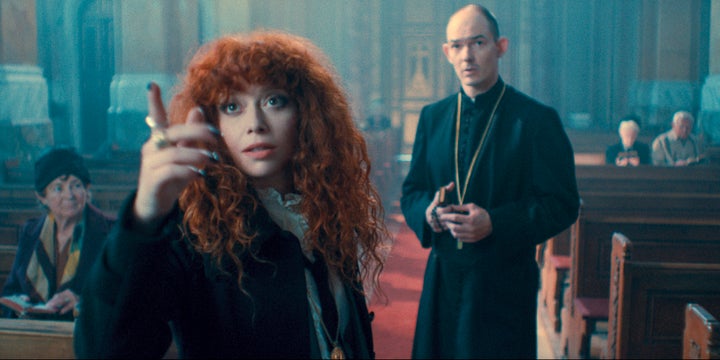 En cuanto al contenido con guión, los episodios finales de "Ozark" y "Grace and Frankie" saldrán al aire el 29 de abril, y el 20 de abril marcará el regreso de "Russian Doll" para la temporada 2.
Varios programas y películas no producidos o distribuidos exclusivamente por Netflix también se agregarán al servicio de transmisión el 1 de abril. Los aspectos más destacados incluyen 'Argo', 'Saving Private Ryan', 'The Ring' y la temporada 14 de 'Heartland'.
Consulte la lista completa de las próximas películas y programas a continuación.
Y si quieres estar al día de todo lo que llega a Netflix cada semana, suscríbete a la newsletter de Streamline.

1 ° de abril
"Apolo 10 1/2: una infancia en la era espacial" (película de Netflix)
"Batalla: Estilo libre" (película de Netflix)
"La burbuja" (película de Netflix)
"Capitán Nova" (Familia Netflix)
"Celeb Five: Detrás de la cortina" (comedia de Netflix)
"Para siempre fuera de mi liga" (película de Netflix)
"Organízate con The Home Edit" (temporada 2, serie de Netflix)
"El último autobús" (Familia Netflix)
"Mañana" (serie de Netflix)
"Búsqueda de preguntas" (serie de Netflix)
"Abby Hatcher" (temporada 2)
"CoComelón" (Temporada 5)
"Cómo entrenar a tu dragón"
"Polly Pocket: Verano de diversión" (temporada 4, parte 1)
"Salvando al soldado Ryan"
"Sherlock Holmes: Un juego de sombras"
"Shrek Para Siempre Después"
4 de abril
"Mejor llama a Saul" (temporada 5)
5 de abril
"Ronny Chieng: Speakeasy" (comedia de Netflix)
6 de abril
Furioza (Película de Netflix)
"Club de madres verdes" (serie de Netflix)
"Jimmy Savile: una historia de terror británica" (documental de Netflix)
"Michela Giraud: la verdad, ¡lo juro!" (comedia de Netflix)
"El ultimátum: casarse o seguir adelante" (serie de Netflix)
7 de abril
"Reina del Sur" (Temporada 5)
"Regreso al espacio" (Documental de Netflix)
"Senzo: Asesinato de un jugador de fútbol" (Documental de Netflix)
Abril 8
"Barbie se necesitan dos" (temporada 1)
"Bailando sobre vidrio" (película de Netflix)
"Líneas sucias" (serie de Netflix)
"Élite" (Temporada 5, serie de Netflix)
"Huevos verdes con jamón" (temporada 2, familia de Netflix)
"Señores del metal" (película de Netflix)
"Tigre y conejito 2" (anime de Netflix)
"Yaksha: operaciones implacables" (película de Netflix)
9 de abril
"Mis notas de lanzamiento" (serie de Netflix)
"Nuestro blues" (serie de Netflix)
10 de abril
12 de abril
"Celda dura" (serie de Netflix)
"Los casos de las criaturas" (familia de Netflix)
13 de abril
"Casi feliz" (temporada 2, serie de Netflix)
"Nuestros Grandes Parques Nacionales" (Documental de Netflix)
"Artillero" (serie de Netflix)
"Hoy arreglamos el mundo" (película de Netflix)
14 de abril
"Ultraman" (Temporada 2, Anime de Netflix)
15 de abril
"Anatomía de un escándalo" (Serie de Netflix)
"Elige o muere" (película de Netflix)
"Herederos de la tierra" (serie de Netflix)
"Strawberry Shortcake Berry en la gran ciudad" (temporada 1)
16 de abril
"LEGO Friends: Chicas en una misión" (Temporadas 1-4)
"Hombre de Dios" (película de Netflix)
"Van Helsing" (Temporada 5)
19 de abril
"Battle Kitty" (Familia de Netflix)
"Pacific Rim: The Black" (temporada 2, anime de Netflix)
"Al rojo vivo: el auge y la caída de Abercrombie & Fitch" (documental de Netflix)
20 de abril
"El corazón marcado" (serie de Netflix)
"Muñeca rusa" (temporada 2, serie de Netflix)
"El punto de inflexión" (película de Netflix)
"Yakamoz S-245" (serie de Netflix)
21 de abril
"Todo sobre Gila" (comedia de Netflix)
"Él está esperando" (serie de Netflix)
22 de abril
"Along for the Ride" (película de Netflix)
"Heartstopper" (serie de Netflix)
"Selling Sunset" (temporada 5, serie de Netflix)
"Las siete vidas de Lea" (serie de Netflix)
25 de abril
26 de abril
"David Spade: Nada personal" (comedia de Netflix)
27 de abril
"Bullsh * t The Game Show" (Serie de Netflix)
"El misterio de Marilyn Monroe: las cintas no escuchadas" (documental de Netflix)
"Asedio de Silverton" (película de Netflix)
28 de abril
"Samurai Rabbit: The Usagi Chronicles" (Familia Netflix)
"Burbuja" (anime de Netflix)
29 de abril
"Grace y Frankie" (temporada 7, serie de Netflix)
"Luna de miel con mi madre" (película de Netflix)
"Ozark" (Temporada 4, Parte 2, Serie de Netflix)
"Rumspringa" (Película de Netflix)
Fecha desconocida
"Espera" (serie de Netflix)
"Domar a la fierecilla" (película de Netflix)